Do you need great espresso coffee for an occasion but only have a limited amount of space? For big aspirations in little settings, mobile coffee bikes are ideal. With professional coffee bike rental from The Rolling Bean, you'll get a fully functional espresso coffee machine as well as an expert barista who will create and serve exquisite coffee on your behalf.
Our mobile coffee bikes have cycled across the United Kingdom and even into Europe on occasion, bringing the aroma of freshly roasted coffee to events of all sizes. A mobile coffee bike can be used for everything from conferences to office treats, and it's a terrific way to market yourself or express your appreciation for your hardworking employees.
Contact us to enquire about our mobile coffee machine hire in London & the rest of the UK.

Coffee

Hot Chocolate

Smoothies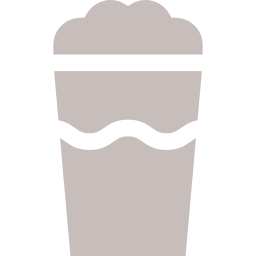 Affogato
Mobile Coffee Bike Hire London - Portable Coffee Machine Hire for Your Space!
Hiring coffee machines has never been easier than with our amazing coffee machine rentals. A mobile coffee bike is our most compact alternative for mobile coffee hire, as it is highly portable and readily tucked away in small areas. If you're planning a small conference or simply don't know how much room you'll need for a booth at a huge show, look no further.
We have two black dutch coffee cargo bikes in our fleet that you can use with or without the bike component to create a more form-fitting mobile coffee machine.
Get in touch today and hire a coffee machine tailored to your space.
The dimensions of our units are:


220cm length x 95cm width


(With bike section removed, length is 145cm
– Perfect for fitting in lifts)


Branded Coffee Trikes & Bikes for Events
Our mobile coffee bikes are unbranded by default; this is not because we don't love our brand; rather, we want to highlight yours over ours. 
The coffee bikes can be fully customised with your company's logo, promotional materials, and motto. Three detachable side panels are included with the bikes and can be used to display whatever imagery you like.
Our branding package includes more than just the coffee bikes; everything from our clothing to our coffee cups may be embossed with your logo to help us blend in with your staff and smoothly implement promotional initiatives. Because we understand that our client's image is the most valuable item we are entrusted with, all promotional materials are created using the best possible quality materials and processes.
Looking for coffee machine hire for events? That's where we come in. Our staff of expert baristas and entire events package are ideal for conferences, exhibits, and festivals, and can give your event the boost it needs.
Our Friendly & Professional Barista Team
The most crucial aspect of preparing good coffee is having an expert there to make it delicious and beautiful for your event. Our purpose is to assist you in making new connections with customers by encouraging smooth discussion and natural-feeling networking. This will hopefully provide your clients and co-workers a favourable impression of your company.
It's our goal to help you connect with customers in a new way, facilitating easy conversation and natural feeling networking. This will hopefully place a positive image of your brand into the minds of your customers and colleagues.
Our professional baristas aid in providing a relaxing and welcoming ambiance around our coffee bikes by using the art of coffee and excellent customer service.
Invest in experienced barista's, great coffee and service. Perfect for exhibitions and events, rent a coffee machine now.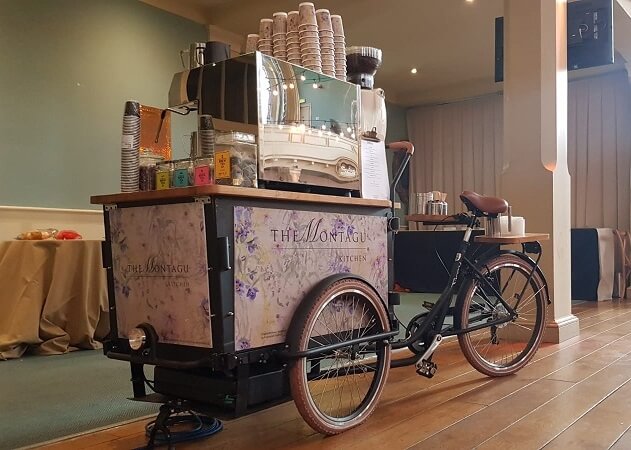 High Quality Coffee Bike & Trike Hire UK
Our mobile coffee bikes are more than just a novelty; we make it a point to source the highest-quality coffee equipment, beans, and milk in all forms. Nothing will stop us from delivering exceptional quality coffee to you and your customers because all of our employees are trained in how to properly clean and maintain the machinery we use.
Whether you are searching for coffee machine hire for exhibitions, weddings, conferences or parties, we have you covered. Get in touch to find out more about our coffee machine hire service.
Our Mobile Coffee Machine Range
Think that a coffee bike won't quite do it for your next event? Coffee bikes, coffee vans, coffee bars, and a few other pop-up coffee choices for specialty scenarios make up our collection of vehicles. Take a look at our complete collection of event coffee solutions to find the best fit for you and your company.
Enquire about our coffee machine hire London.
Book a Coffee Bike For Your Event​
We're offering our customers something extra.
Take a coffee bike to your next event and command the room with outstanding service and great tasting coffee.
Book a Coffee Bike For Your Event​
We're offering our customers something extra.
Take a coffee bike to your next event and command the room with outstanding service and great tasting coffee.
A Few Places We've Served Coffee
We have taken our mobile coffee vans, bars and bikes up and down the UK to serve freshly ground coffee at events like product launches, film sets and exhibitions.
Get in touch today to find out how we can help you stand out from the crowd, no matter the occasion.