Expert Mobile Baristas, Premium-Quality Coffees & Delicious Baked Goods
Hire a Mobile Coffee Van, Bike or Bar in London
Why Choose the Rolling Bean?
No matter whether you're based in Richmond, Hackney or anywhere in between, our team can serve up premium-quality coffees, cold beverages and freshly-baked cookies and brownies from one of our handy mobile coffee stations. 
Our mobile coffee vans and bikes are the perfect addition to any event, office or even film set. Even better yet, our friendly baristas pride themselves in providing the best possible service, so you can rest assured that your event guests, staff and team members will be well taken care of.
Come rain, wind or shine, our team will be on hand to serve up coffee with a smile at your event, office space or film and TV set! Our mobile coffee bars come in all shapes and sizes, so they can seamlessly slot into any background. 
We have a wealth of experience providing mobile coffee in London for corporate events, exhibitions, product launches and more. No matter whether you require a mobile coffee cart in Camden, or a frappe bar in Fulham, we're here to help. If you're looking for coffee van hire in London, we cover the following areas:
London Excel
London Olympia
Old Billingsgate
Business Design Centre Islington
Tobacco Dock 
Truman Brewery
The Brewery
South Bank Centre
Intercontinental O2 
Queen Elizabeth II Centre
Our London Mobile Coffee & Catering Services
We pride ourselves in providing the best mobile coffee in London, and our services are trusted by well-known brands such as Apple, Google, Barclays and more. However, we don't just serve up piping-hot coffees, we can also provide a selection of baked cookies and brownies, smoothies, affogatos and more from our mobile coffee stations. Learn more about these options below…
Filming in London? Hire the Rolling Bean team and our expert craft services to keep your crew fed and watered throughout those long days on set! We provide craft services in London, and we can serve up sandwiches, cookies and more in any location. 
Our mobile coffee bikes are the perfect option for those with a smaller space to work with. These mobile coffee carts are approximately 220cm x 90cm, so they can slot into any location with ease. Learn more about our coffee cart hire in London today.
Our mobile coffee vans are ideal for outdoor film sets and events, however, they're also small and discreet enough to fit into an office building or an event space. We provide coffee van hire in London for brands such as Ferrari and Facebook; your company could be next!
We have a selection of coffee bar sizes to choose from, so you can easily find something to suit your needs. Packed with state-of-the-art equipment and premium-quality ingredients; make your event a memorable one with our coffee bar hire in London.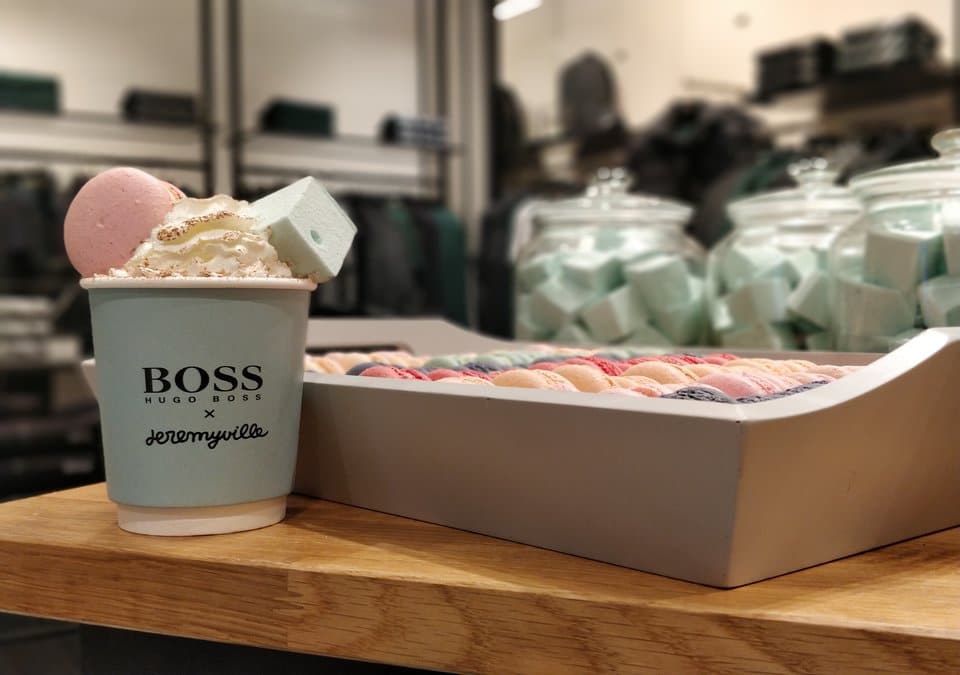 Mobile Coffee Bars With Your Bespoke Branding
If you want to add a professional edge to your coffee cart, van or bar, we offer branding services for all of our mobile coffee services in London. Everything from the coffee cart, coffee cups and barista uniforms can be customised with your brand's logo, helping you to stand out from the crowd with ease. 
This also means that your event guests will take your branding with them whilst they're out and about, thus helping you to promote your product or services far and wide. No matter whether you hire a smoothie bar, cookie bar or coffee station for your event in London, our team will help you to show your brand in the best possible light.
We've helped countless recognisable brands deck out their mobile coffee vans in London, and yours could be next! Get in touch to learn more about our branding opportunities. 
Mobile Affogato Bars in London
This delicious italian dessert is the perfect treat for a hot summers' day. No matter whether you're based in Camden or Canary Wharf, we can bring our mobile affogato bars to you and your team, any day of the year! Get in touch to learn more about our mobile affogato bars.
What customers say about our services
"
We offered to provide coffee for as long as needed on a not-for-profit basis. We knew if we could keep the cost to a minimum we could stay and support the incredible NHS heroes for much longer. Within 3 days of starting, news spread around the wards and we were quickly serving over 700 drinks per day.
Speaking with NHS staff; what seemed like a simple coffee, made them feel appreciated and able to come to work each day.
Despite the personal risk, this small gesture made them feel hugely valued. 
"
Great Ormond Street hospital & rolling bean
Get in Touch With Our Mobile Baristas in London
We're offering our customers something extra.
Get in touch today and hire a mobile coffee service in London with the Rolling Bean. Fill in our contact form, give us a call, or email us and we'll be in touch as soon as possible.
A Few Places We've Served Coffee
The rolling bean destinations
We have taken our mobile coffee vans, bars and coffee trikes around the UK to serve freshly ground coffee at events like conferences, film sets and offices.
Get in touch today to find out how we can help your business stand stand out from the crowd.
Book our Coffee services For Your Event​
We're offering our customers something extra.
Take a coffee bike to your next event and command the room with outstanding service and great tasting coffee.