Office Coffee Bars for Hire
Here at The Rolling Bean, we know great coffee. We provide the highest quality coffee beans so that every cup has a lasting impact. Our state-of-the-art office bean to cup coffee machines are guaranteed to tantalise the taste buds of your employees, clients, and any other building visitors.
Coffee is a workplace staple that studies show can boost cognitive function and memory, enhancing workplace performance. Providing employees with simple yet luxurious perks such as freshly ground coffee, therefore, increases morale, motivating them to complete their work to an exceptional standard.
As modern offices increasingly take a relaxed layout approach, access to office coffee stations can promote creativity and idea-sharing, encouraging a warm, positive, and innovative office environment.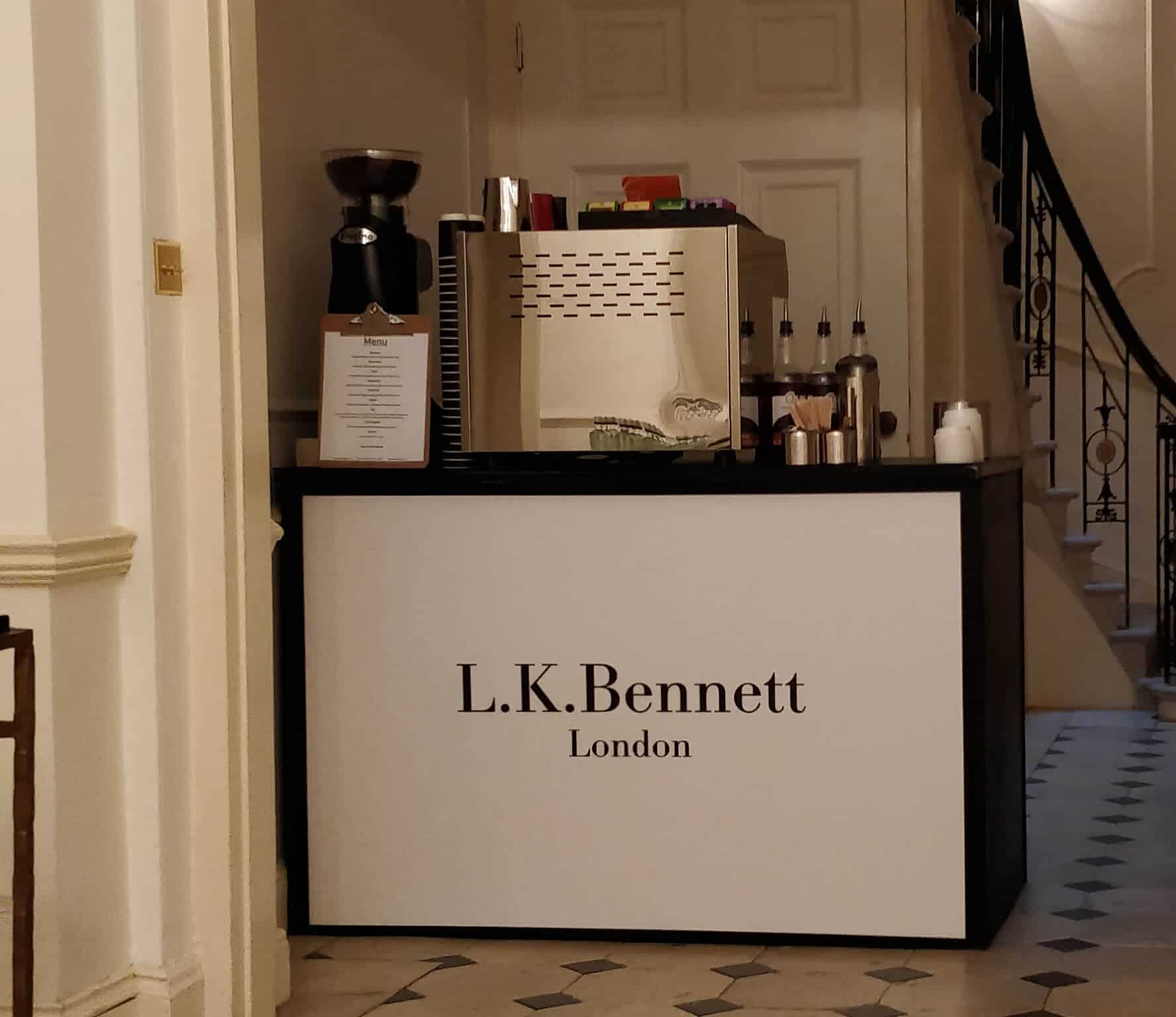 Our office coffee station service is the perfect way to show your employees you care. We offer a solution that focuses on the barista service and experience and are fully equipped to handle your requests. Our professional and devoted staff will deliver the best coffee to your office, for an intimate and aromatic coffee experience that increases productivity and boosts employee morale.
We have served our very own coffee at elite corporate events throughout London, the UK and Europe. If you're interested in coffee services that mean business, then get in touch and enquire about our Rolling office cart. We will be sure to create an increasingly sociable office space for your employees, whilst keeping them positive and motivated with freshly ground barista coffee.
We offer a premium hot chocolate service, the ideal attention-grabbing marketing strategy for events during the colder months. All our bars, bikes and vans can be used to set up a hot chocolate station wherever you need it. We use whole pieces of Belgian chocolate melted into milk to create a rich, creamy beverage your guests will love. Warm up your guests at weddings, events and parties with a personalised and fully manned hot chocolate station.
Personalised Branding Available for Office Coffee Bar Stations
One of our most popular features here at The Rolling Bean is our ability to fully integrate our products and services to match your brand. If you would like to add a personal flair to our office coffee station services, we are equipped to collaborate with you to ensure you receive the bespoke service you're searching for. Our coffee stations for offices can be completely customised from cart to cup, helping you achieve a professional, cohesive look. We can provide branded coffee bars, bikes, coffee cups and custom catering so that your office coffee station will seamlessly blend into any setting. 
At The Rolling Bean, we understand the importance of exceptional service. Through smart, friendly, and professional baristas, we consistently exceed our high-statured clients' standards and will provide your employees with service of the same quality. Regardless of whether you're hiring an office coffee cart, bar, or van, we'll provide an expert team of baristas to serve coffee at your location. This means that you don't have to worry about hiring extra staff, and your coffee bar will be re-stocks, cleaned and manned by an experienced team of coffee makers.
Our baristas and members of staff will arrive at your event extra early to allow time for set-up and preparation. This will ensure our machines are correctly calibrated to our roasting facilities.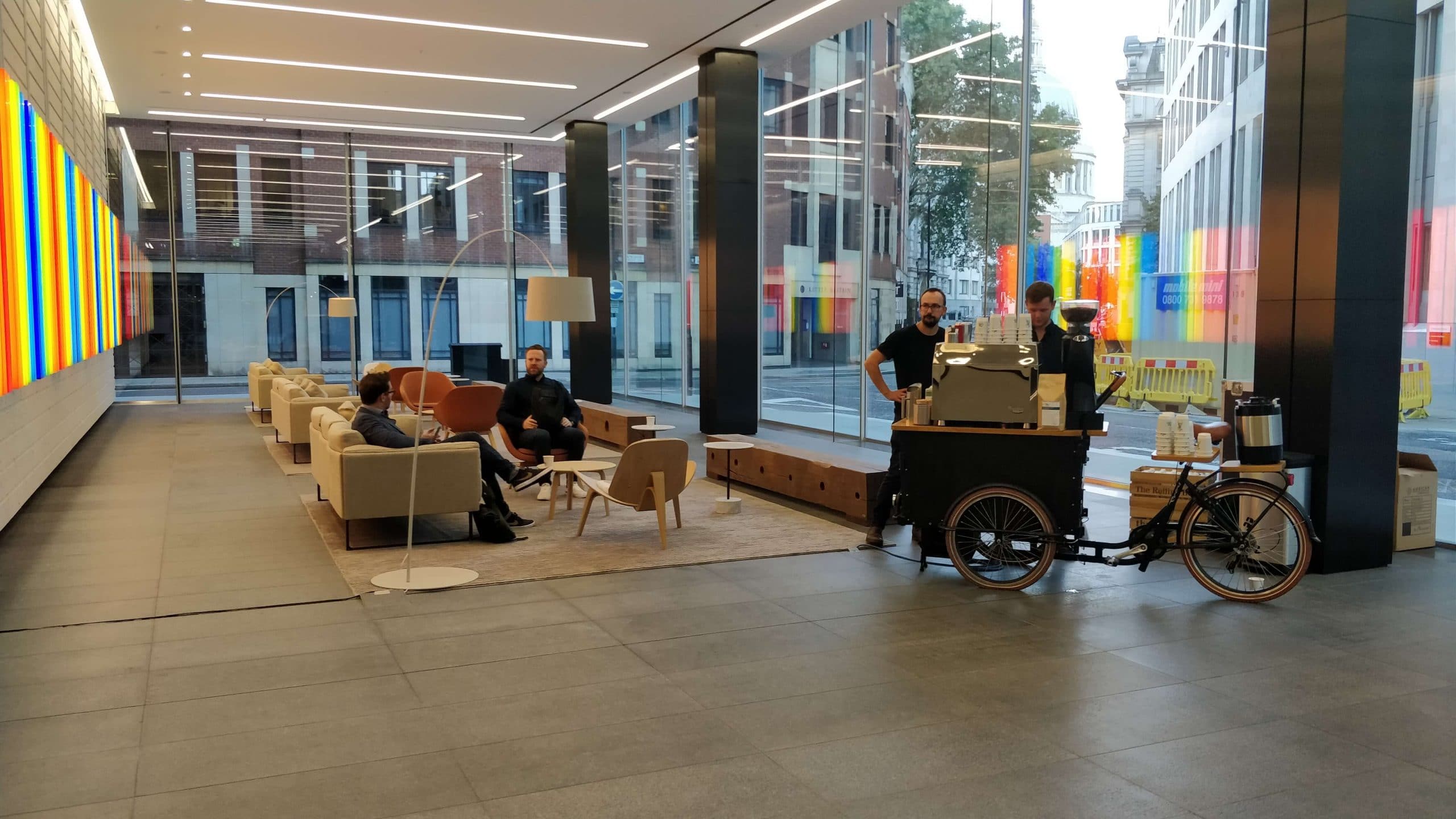 Office Coffee Station Sizes
There is no need to worry about your coffee bar taking up your entire floor space. We provide both small office coffee bars, as well as large office coffee stations, allowing you to select the most suitable option for you. Our smallest coffee bars are 1m x 0.75m, whilst our largest office coffee stations are 2.5m x 0.75m. If you're unsure about which office coffee station size is right for you, do not hesitate to get in touch and we'll be more than happy to offer our expert advice!
 Our coffee stations for offices are extremely versatile and can be placed almost anywhere. All we require from you is a domestic plug socket, and then you'll be up and running in no time. 
To find out more about our coffee bar for office hire, please get in touch and we will be more than happy to assist you!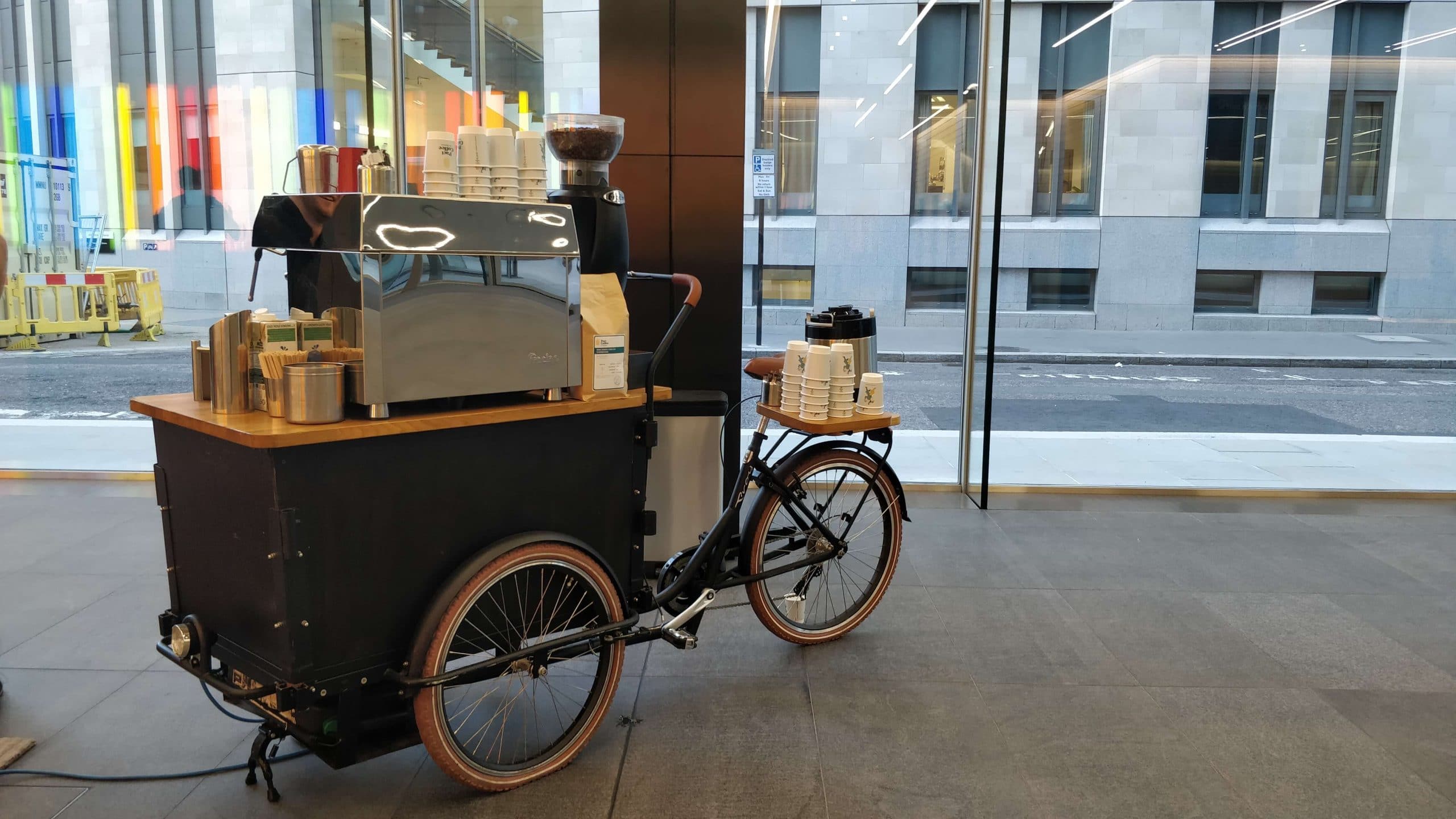 hire a coffee bar for your office
Treat Your staff to something special.
 It's incredibly easy to book a mobile coffee bar for your office. Simply fill in the contact form, or give us a call, and a member of our friendly team will be in touch to finalise the details.
Hire Hot Chocolate For Your Event​
We're offering our customers something extra.
Book a hot chocolate bar for your next event to warm up your guests this winter. We offer full custom branding across all our hot chocolate cups!
A Few Places We've Served Coffee
We have taken our mobile coffee vans, bars and bikes up and down the UK to serve freshly ground coffee at events like product launches, film sets and exhibitions.
Get in touch today to find out how we can help you stand out from the crowd, no matter the occasion.