Mobile Coffee for Exhibitions
At The Rolling Bean, we know that exhibitions can mean long, tiring days. This is why keeping your guests refreshed and engaged is important. Stand out from the crowd and make your conference unforgettable with our bespoke mobile exhibition coffee hire.
Having obtained numerous years of experience in serving premium coffee across London, the UK and Europe, excellent customer service is at the core of our business. Everything we do is designed to enrich your brand and our promise to provide an outstanding mobile coffee service is reflected in our returning clients' reviews.
 We offer a range of exhibition coffee stands in various formats including coffee vans, bikes, and bars. When selecting your preferred coffee cart for hire, please consider both venue size and the number of guests you will be aiming to serve, as each one of our models meets different client requirements.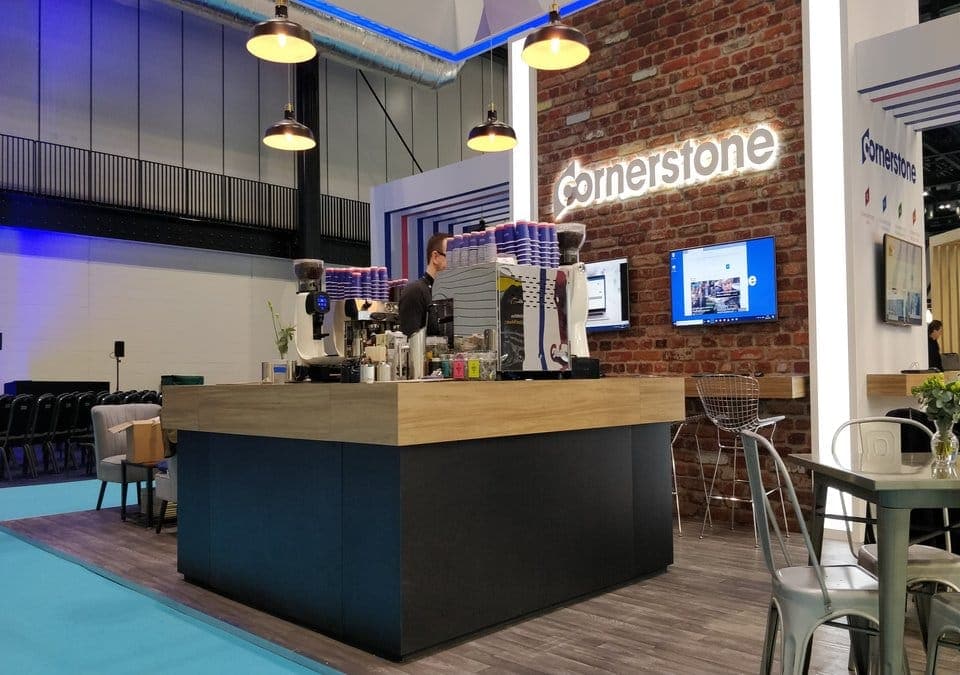 Planning a stall at an exhibition? Why not stand out from the crowd and increase your potential client engagement by hiring one of our coffee bikes, vans or bars? 
We here at the Rolling Bean specialise in helping brands stand out in competitive spaces and our dedicated team of expert baristas will be there on the big day to help you break through the noise of the exhibition floor.
Fully customisable with your company's branding, we will work closely with your team to meet your exact requirements and create the biggest impression possible possible for your brand.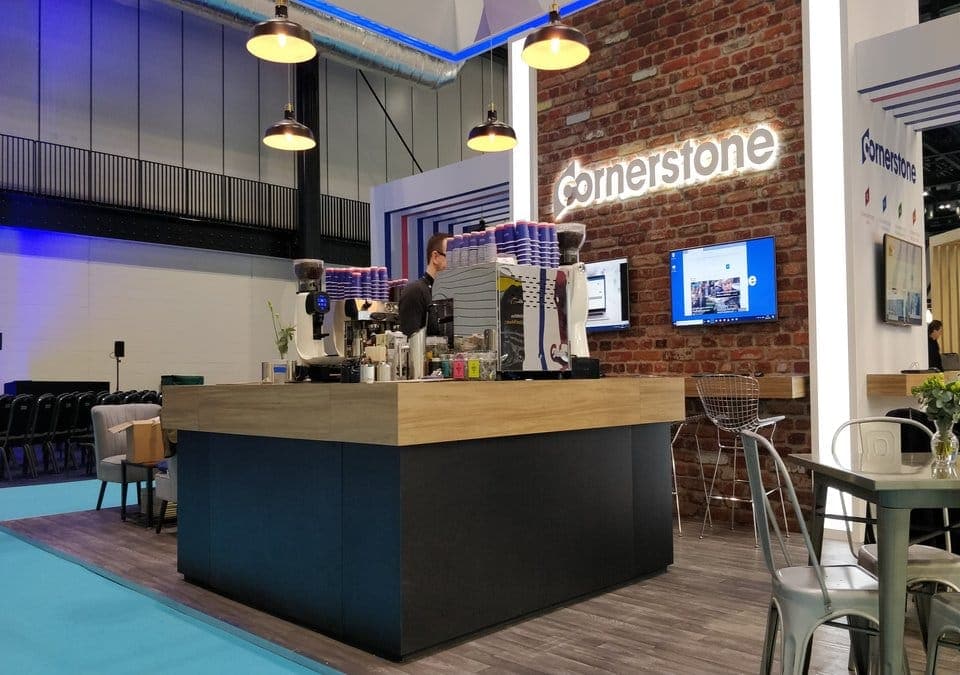 Mobile Coffee

Hot Chocolate

Smoothies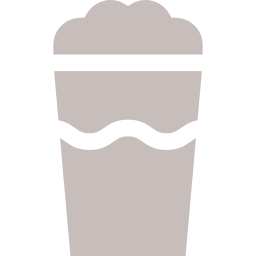 Affogato
Hire a Mobile Coffee Bar, Bike or Van from The Rolling Bean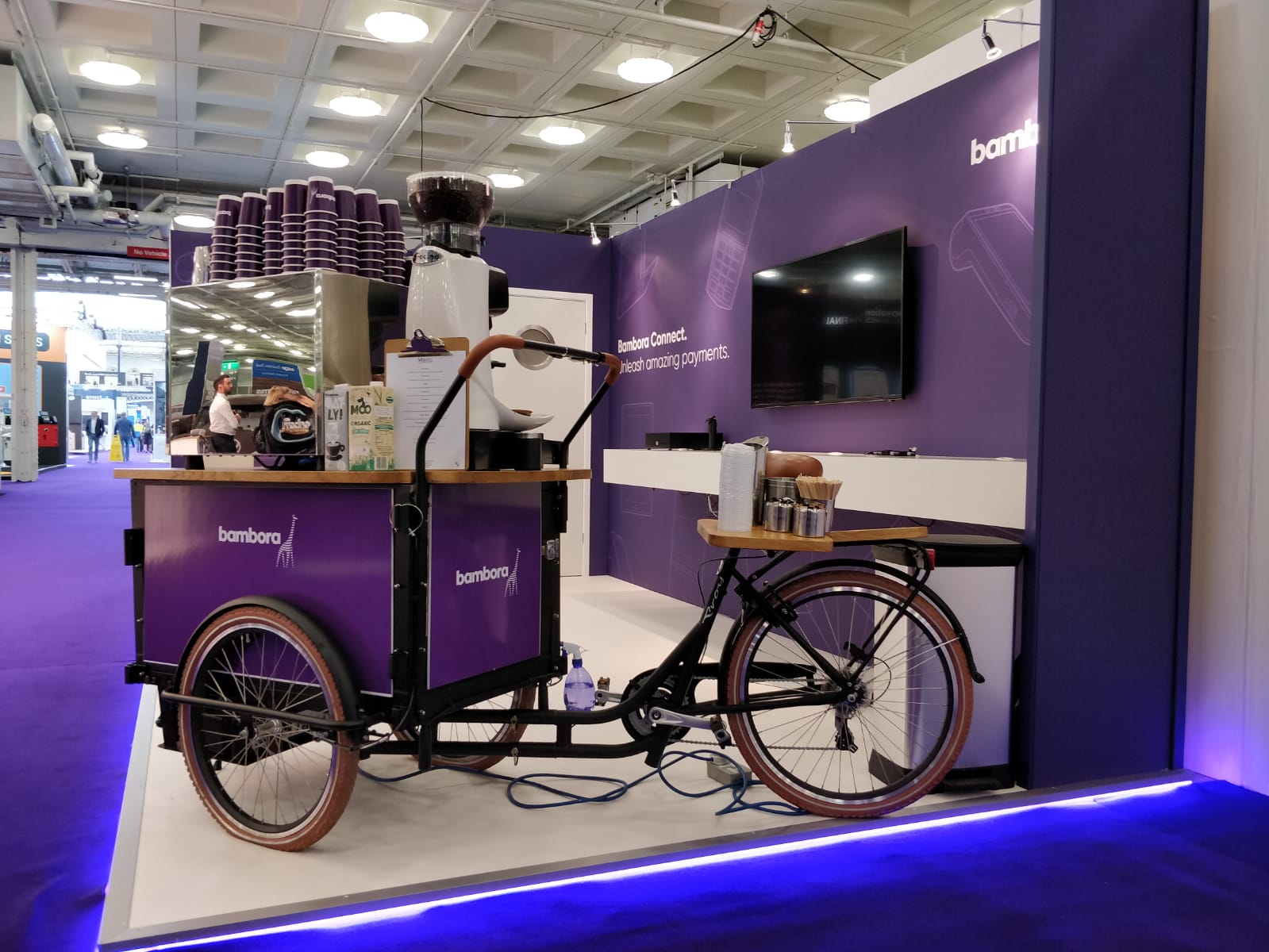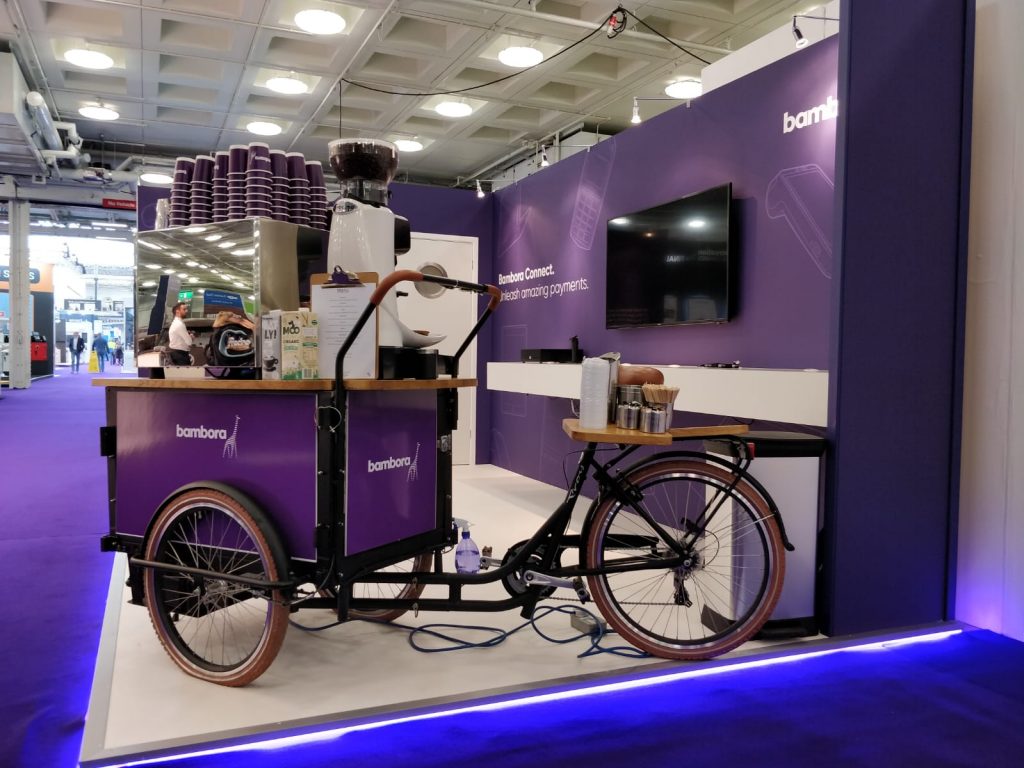 Whether you opt for one of our mobile exhibition coffee stands, bikes or bars, our all-inclusive events package including barista exhibition hire, will be delivered seamlessly, helping you fulfil your dream vision. 
Our professional, friendly baristas will keep your guests replenished and rejuvenated with a variety of the highest-quality coffees including: cappuccinos, tea, hot chocolate, juices, and smoothies. Make your event much more memorable by delighting your guests with a first-class exhibition barista service at your event.
Branded Coffee Cups, Stands and Baristas for Exhibitions
At The Rolling Bean, we understand the need to stand out in competitive spaces. We are, therefore, passionate about creating the ultimate exhibition coffee hire service that guarantees maximum satisfaction, for both you and your customers.
One of our most sought-after features is our ability to fully integrate our client's brand image into our products and services. Our coffee vans, bikes and bars can be fully customised to prominently feature your brand's logo and any relevant promotional material. Both creative and commercial, this solution presents a strong and personal image to your new potential clients, helping to drive brand awareness and revenue. Click here to learn more about how our customisable panels, custom branded cups, branded aprons, and stencils can help take your brand to the next level.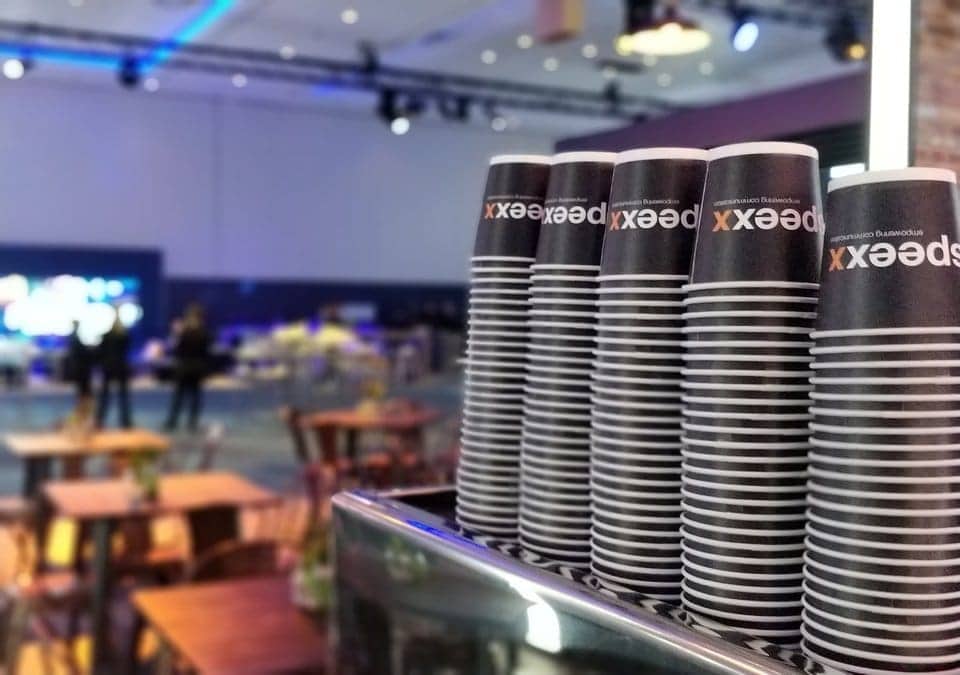 Stand Out at with Mobile Coffee for Exhibitions
We know that exhibitions can be stressful and daunting to a business of any size and have, as a result, formulated some of our favourite methods to help you maximise your impact on the floor.
 Allow your personality to shine through: our customisable coffee for exhibition spaces means you can treat your guests to the best coffee available or even introduce them to an old favourite of yours. Just let us know which type of coffee you would like us to work with, and we will do our very best to have it ready for your big day.
 Focus on relationship building: at The Rolling Bean, we recognise the positive impact a good first impression can have on a business relationship. We, therefore, take our role as temporary brand ambassadors very seriously and encourage discussion to increase footfall to your stand. Our baristas possess a natural flair for client satisfaction and are excellent at creating a social and relaxing ambience where they can naturally and casually engage with customers. Our staff will always emphasize greeting each customer with a smile and friendly conversation, helping to build and maintain your relationships with both existing and potential clients.
Sustainable and Responsibly Sourced Coffee Services
We are deeply troubled by the sheer amount of waste produced by coffee culture and are dedicated to minimising our waste production. This includes using PLA for our cups – a fully biodegradable plastic derived from corn resin.
Companies are under increasing pressure to reduce their environmental impact and we are committed to helping you achieve this. Sourcing from trusted suppliers with a proven track record in sustainable production carries significant moral and business value and is a bandwagon we have been more than happy to jump on.
We also have a variety of non-dairy vegan alternatives to dairy milk.
Barista Hire for Exhibitions and Events
Whether your goal is to stand out from the crowd or surprise your guests with premium, aromatic coffee, our exhibition coffee is the perfect way to achieve your goals. If you're interested in barista exhibition hire via a personalised, professional, and portable coffee stand that passionately delivers high-quality goods and services, then contact us now to see how we can work with you and your company, to help you broaden your engagement at any exhibition or event.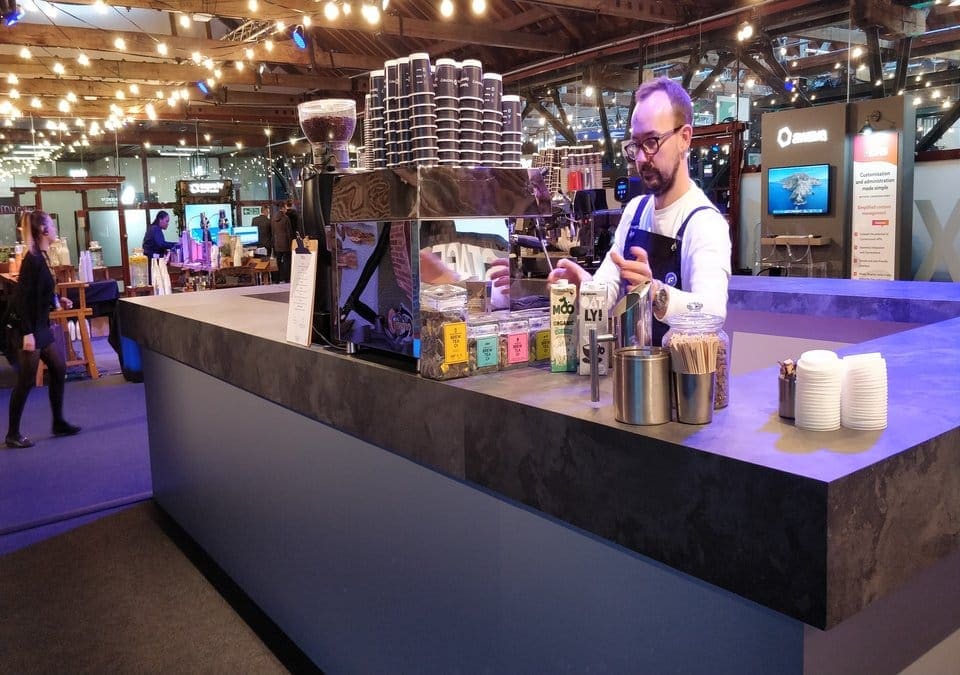 Contact us For Your Event​
We're offering our customers something extra.
We are proud to only use the best equipment possible, all our machines are industry standard and manned by staff that know how to use and maintain them.
Contact us For Your Event​
We're offering our customers something extra.
We are proud to only use the best equipment possible, all our machines are industry standard and manned by staff that know how to use and maintain them.
A Few Places We've Served Coffee
We have taken our mobile coffee vans, bars and bikes up and down the UK to serve freshly ground coffee at events like product launches, film sets and exhibitions.
Get in touch today to find out how we can help you stand out from the crowd, no matter the occasion.