Mobile Coffee Bar for Hire
A coffee bar is the perfect way to serve professionally made coffee in a relaxed and comfortable setting. Our mobile coffee bars have been all the way up and down the UK and have never failed to be a hit, afterall, who doesn't love great coffee? Our team of professional baristas will be on-site to operate our mobile coffee bar and uphold the highest customer service standards. 
Taking as little as one meter of space, our mobile coffee bar can be set-up in your office, exhibition hall or conference – all in a matter of minutes. Ready to serve delicious coffee to your colleagues, customers or clients. Get in touch now if a coffee bar is right for you and your business.
Worried about space when hiring a coffee bar? Don't worry we hear that from our customers all the time. We have specifically designed our bars to be workable in a variety of spaces and venues. Our mobile coffee bars start at just requiring one 1sqm to get set-up.  Below you will see the multiple options that we have available for clients looking to rent a coffee bar.
Number of bars
Standard bars: 4
Small bars: 1
Large Bars: 2
The dimensions of our units are:
Standard bar: 1.5m length x 0.75m width
Small bar: 1m length x 0.75m width
Large bar: 2.5m lenth x 0.75m wide
Our mobile coffee bar can be fully customised to match your business's unique branding aesthetic, our bars feature detachable front and side panels that can have any imagery you wish printed onto them. This means that your mobile coffee bar can appear to be a part of your business on the day of your convention or exhibition. 
This branding can be extended to our coffee cups, napkins and even our uniforms. However, if you'd rather that we maintain a lower profile while working with you, that's not a problem. However, our coffee bar's side panels can be kept as a sleek black or natural hardwood finish if you would prefer that we stay neutral on the day or simply don't need additional promotion. We always take great pains to ensure that our client's branding is printed to the highest possible standard, ensuring your coffee bar will mesh neatly with your brand's image on the day.
Mobile Coffee Bar Barista Team​
When you hire a mobile coffee bar from The Rolling Bean, we want to make sure that you get exceptional value from our service. A key part of doing this is providing expert staff who know coffee, and more importantly, understand the importance of great customer service. 
All of our team are expert baristas who have worked for years in the service industry and won't be phased by long lines, busy spaces or hasty environments. A coffee bar will draw attendees to your stand, create an energised and exciting space and add the smell of freshly roasted coffee to boot.  Hire a mobile coffee bar if you want to have a team of friendly faces serving delicious coffee all day.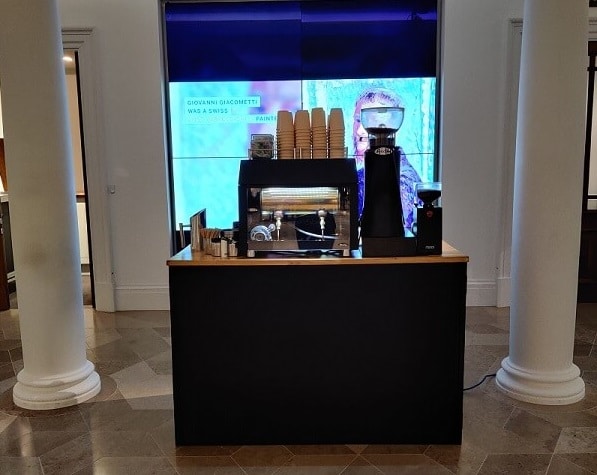 Portable, clean and easy to set up. Our for-hire mobile coffee bars only require a single plug in order to operate indoors. If your location will be outside then don't worry, our coffee machines are perfectly capable of running on on-board gas or battery power. 
Our coffee beans are always sourced responsibly and thoroughly, so that we can ensure that not only is every cup delicious, but ethical as well. This philosophy extends to our milk selection too, with only the finest organic milk being used and plant based alternatives like soy, almond and oat milk being on-hand if needed. 
Mobile Coffee Bars for Every Occasion​
We're offering our customers something extra.
Pop up a coffee shop and get the crowd talking at any event or venue by contacting the Rolling Bean.
Mobile Coffee Bars for Every Occasion​
We're offering our customers something extra.
Pop up a coffee shop and get the crowd talking at any event or venue by contacting the Rolling Bean.
A Few Places We've Served Coffee
We have taken our mobile coffee vans, bars and bikes up and down the UK to serve freshly ground coffee at events like product launches, film sets and exhibitions.
Get in touch today to find out how we can help you stand out from the crowd, no matter the occasion.