Smoothie Bike Hire London & UK
Increasing interest in health and well-being trends have seen a boom in health-conscious individuals who crave nutritious, antioxidant-rich beverages. That is why in addition to our mobile coffee services, we also offer mobile smoothie bar and juice bar hire. Packed full of beautifully vibrant produce, our tailor-made smoothie bar packages have become a popular alternative to coffee stalls. Bursting with luscious fruits rich in vitamins, minerals and active digestive ingredients, our immune system-boosting mobile juice bars are an excellent way to promote healthy well-being.
100% natural, our vegetable and fruit-based beverages are juiced, squeezed, and blended using the finest ingredients and juice bar equipment. All mobile smoothie bar hire packages include superfood smoothies and juices created right in front of your guests – staying energised never tasted so fresh.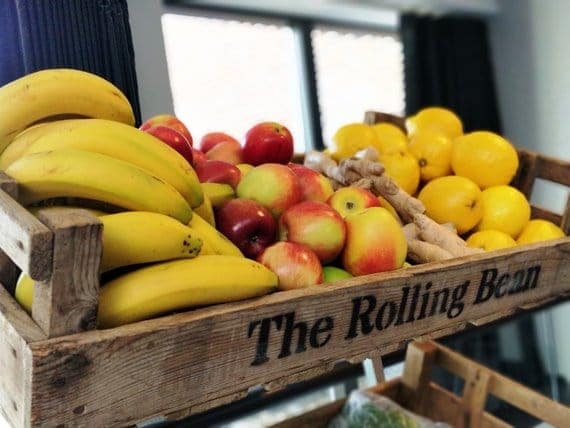 Whether you are looking to detox, quench or relish your guests, we have a range of mobile juice bar options for you. We will work closely with you to design a fresh, nutritious, and mouth-watering menu that will leave your guests looking and feeling fantastic. Due to a rise in veganism and increasing preference towards dairy alternatives, we also offer nut milk and soy milk bases.
If you are looking for high-quality, professional service, look no further. Here at The Rolling Bean, we can re-energise your guests in style with our sleek, unique designs which can double as the perfect centrepiece for your event. Check out some examples below.
Whether you're working an exhibition booth, manning a shop floor, or even taking to the streets, we've got the pear-fect mobile juice bar or smoothie van for you. Our mobile smoothie bar service is a complete package that includes a choice of stand (whether that be a bar, cart or bike), premium ingredients, juice bar equipment and where desired, your company's personal branding – ensuring a sweet and smooth day.
To find out how you can freshen up any event with our mobile juice bars, smoothie vans or smoothie bike hire, simply get in touch and we'll be more than happy to discuss your requirements.
Freshen up any event with one of our mobile smoothie bars or bikes. We use the freshest ingredients and the finest equipment to make our breakfast, fruit and vegetable smoothies and juices that are sure to make you stand out no matter where you are.
Our Dutch cargo bikes are an ideal centrepiece and the sleek design of our bars shows professionalism and quality. If you're working from an exhibition booth, manning a shop floor or even taking to the streets, we've got the perfect bar or bike to suit you.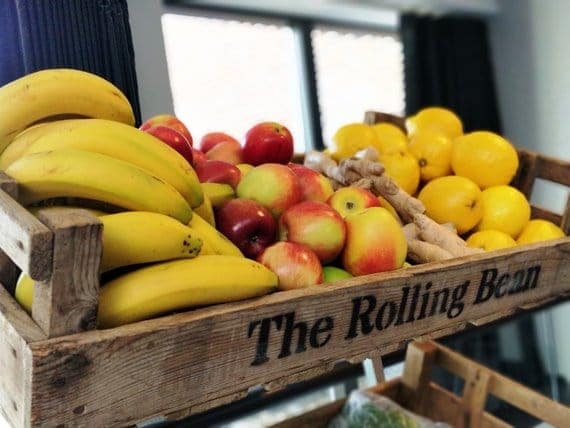 Our Mobile Smoothie Carts & Bikes
Juice bars are a healthy and deliciously sweet addition to any event. We've taken our mobile smoothie bars and bikes across London, the UK and Europe, bringing premium smoothies and juices to crowds at all kinds of events. Whether you have an upcoming exhibition, conference, product launch or private event, fresh juices and smoothies are sure to capture the attention of your guests.
We create our freshly blended smoothies using top-grade commercial equipment coupled with the finest ingredients. We can help increase footfall and jump-start conversation, all whilst serving a healthy alternative to caffeine-based products! Our professional and friendly staff are dedicated to greeting your guests with a warm welcome, whilst supporting your marketing and business objectives, so that you and your team can focus on what is truly important.
All our units are self-contained, have a small footprint and operate on just one domestic plug, meaning we can create delicious treats from almost anywhere! 
Enquire now to find out more about juice bar UK hire.
Personalised Smoothie Bars in London & the Rest of the UK
Make the day go smoothly with personally branded smoothies. Using a customised smoothie bike or bar as part of a promotion is a great way to start conversations and place your brand in the minds of guests and potential customers. Whether it's an exhibition, conference, or product launch, promoting your brand with a personalised mobile smoothie bar will help you stand out and increase traffic to your stand. 
Our mobile juice bars here at The Rolling Bean are completely customisable and can be tailored to your exact size and design requirements. Create a high visual impact by personalising our mobile smoothie bars, bikes, cups, and uniforms to your branding.
Our smoothie bars offer front and side panel branding, and our bikes offer three-panel branding. Not only will customising this make your brand more memorable and increase engagement, it will also help to maximise potential sales.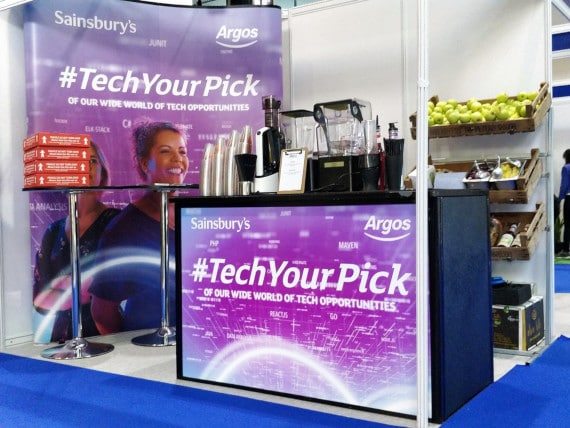 Our staff are fully trained and experienced in customer service, ensuring your guests have a positive, professional experience from the beginning to end.
Take full advantage of our personalised branding services by enquiring about our branded smoothie cups and branded juices now. We can't wait to hear from you!
Choose Smoothie Bar Hire for Your Next Event
Get in touch with us to discover how The Rolling Bean's mobile smoothie bars for hire can help your next exhibition, conference, or any other event thrive. We will work in close proximity with you, to ensure you are ecstatic with our service from the beginning, to end. Learn how we can fully customise our events to meet your requirements by getting in touch now.
Contact us now to express interest in juice bars and bikes throughout London & the rest of the UK.
Choose Smoothies for your Next Event​
We're offering our customers something extra.
Get in touch to find out how a smoothie and juice promotion could benefit your next exhibition, conference or private event.
Choose Smoothies for your Next Event​
We're offering our customers something extra.
Get in touch to find out how a smoothie and juice promotion could benefit your next exhibition, conference or private event.
A Few Places We've Served Coffee
We have taken our mobile coffee vans, bars and bikes up and down the UK to serve freshly ground coffee at events like product launches, film sets and exhibitions.
Get in touch today to find out how we can help you stand out from the crowd, no matter the occasion.