Our mobile Piaggio Apes (Ap-hays) are small and compact but full of beans, helping you give your guests a kick no matter where it fits.
We've taken our vans to exhibition booths, conferences and even birthday parties, bringing fresh roasted coffee to happy customers across the UK and Europe.
For any special event, a coffee van makes a stand-out statement. Book one of our vans for your next event today.
Our mobile coffee van is compact enough that they've even fit into some lifts! The van easily fits in at work, at conferences or in venue halls. Their miniature footprint means we can serve coffee from almost anywhere.
Mobile Coffee Van Dimensions:
Length 260cm x Width 130cm
Our vans are fully brandable to make them look like they've always been yours. When you hire our coffee van, you have the option of putting your brand on up to 10 panels in whatever design you like.
The van can also be left blank if you'd rather keep a sleek, simple design and will still look attractive and inviting in any case.
Go the extra mile with branded cups, hats and uniforms, bringing our team on board with yours and helping to present a united customer service front which is sure to satisfy your guests and keep your brand in their minds.
Our experienced team of baristas is at your service. We understand the need for professionalism, which is why our team is fully trained and devoted to providing an excellent customer service experience to each of your customers.
Expert service is essential at events like exhibitions where your guests encounter hundreds of people over the course of the day.
Working as part of your team, our staff provide a warm welcome which can encourage networking and can make them more likely to remember you.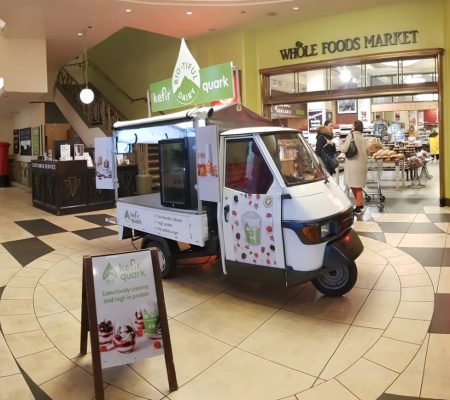 We use only the finest equipment and ingredients around to create premium quality drinks and serve delicious snacks. Our vans also operate from just one standard electrical socket or onboard gas and batteries if situated outside.
If you think a coffee van isn't right for your space, we have loads of other options, including mobile coffee bars and coffee bikes which might be better suited. Check out our vehicles to find the one that's best for you.
Stand Out At Your Next Event
Hire one of our vans and make your marketing efforts memorable at your next exhibition or conference.
A Few Places We've Served Coffee
We have taken our mobile coffee vans, bars and bikes up and down the UK to serve freshly ground coffee at events like product launches, film sets and exhibitions.
Get in touch today to find out how we can help you stand out from the crowd, no matter the occasion.