Mobile Coffee Bar for Hire
Our bars have travelled across the UK, bringing freshly roasted coffee to events,everywhere. Whatever your event, our team are on-hand to provide refreshments to your clients, customers and guests with the highest level of professional customer service.
With as little as one metre of space, we can set up our state of the art equipment and serve quality coffees to draw in curious visitors, helping you spread your marketing message throughout the day.
All our bars are completely foldable and also fit together easily so that no matter what size space you're working with, we have a bar to suit your needs. Whether it's on the shop floor, in a corner of the office or out in the street, our pop up coffee bars make a sizeable impression with a small footprint.
Number of bars
Standard bars: 4
Small bars: 1
Corner units: 2
The dimensions of our units are:
Standard bar: 1.5m length x 0.75m width
Small bar: 1m length x 0.75m width
Our bars are available with front and side panel branding options, meaning you can customise each unit exactly how you want so that it fits in perfectly with the space and conveys the message you want it to.
If you'd rather leave it blank, our bars are available in sleek black or rustic wood, helping them to fit in and complement any room or venue while still adding their own distinct, attractive character.
We ensure the highest quality printing on our bars and cups so your message is clearly and professionally communicated to your guests. 
We want to make your event unforgettable and a key part of doing that is making sure our team provides the best service they possibly can. Our baristas are fully trained and are confident in their engaging, friendly customer interactions.
Allowing us to join your team for the day and be the welcoming face of your brand can help break the ice and get more people engaged, allowing your staff to focus on everything else and network to their fullest potential.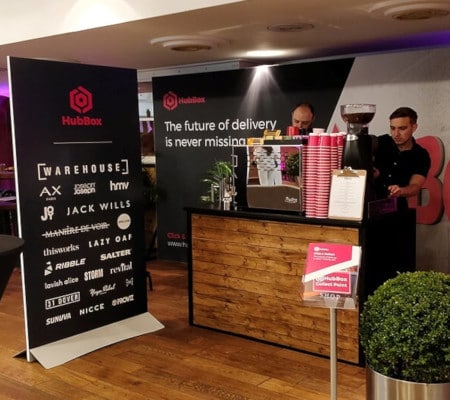 Each of our machines needs only a standard 13 amp wall plug to work so we can make fresh coffees almost anywhere. We use the finest fresh coffee beans in every cup and our machines are the quietest and most efficient around so every cup is filled with quality.
We know you want to give your customers and guests the best impression of your brand so we emphasise the importance of quality in every step of our process.
Mobile Coffee Bars for Every Occasion
Pop up a coffee shop and get the crowd talking at any event or venue by contacting the Rolling Bean.
A Few Places We've Served Coffee
We have taken our mobile coffee vans, bars and bikes up and down the UK to serve freshly ground coffee at events like product launches, film sets and exhibitions.
Get in touch today to find out how we can help you stand out from the crowd, no matter the occasion.